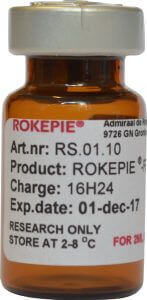 ROKEPIE – protect and preserve cells at low temperature
In 2013 Sulfateq BV launched ROKEPIE®, a bioregulator for the R&D market in Drug Discovery and Regenerative Medicine. ROKEPIE® is a unique hypothermic preservation product to store and transport cells and tissues at low temperatures (2-8°C.)
ROKEPIE® is a supplement for your standard, well defined cell culture medium, enabling the hypothermic storage of cultured mammalian cells for several days. It can be used to make 50 to 200 mL of hypothermic storage cell culture medium, depending on cell density and cell line in question. Whereas other commercially available storage solutions completely replace cell culture medium, ROKEPIE® is simply an addition. Another benefit is that your cell culture medium immediately supports growth of viable cells after cold storage, without the need to remove the storage solution and apply fresh cell culture medium.
It is currently in the introduction phase with several companies testing or using it for different applications. ROKEPIE® is a for Research Use Only product.
ROKEPIE® is patented under the patent number:
WO 2011 / 128458 A1
PCT/NL2013/050915
The product is tested in HEK293 cells, CaCo cells, NRK52E cells, HUVEC, ShSy5Y cells and MS5 cells (mouse).
Possible Applications
Cell and tissue preservation
Transporting cells at 2-8° C in a cold chain vs. frozen (cryo) transportation
Storage of cells and tissue at 2-8° C in the fridge vs. cryostorage
Extension of shelf-life of cells
Increase of time window for Quality Control or production
1st available product ROKEPIE®
For more information or a free sample please visit our website www.rokepie.com